Created: Tuesday, 10 December 2002
Written by Tom Titmouse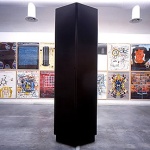 Gotta love the Turner Prize. Art at it's finest.
This years winner was Keith Tyson and his piece "
The Thinker
". It's a column filled with computers which will operate for 33 000 years.
My favourite piece this year was "
Arsewoman in Wonderland
" by Fiona Banner. It is the plot of a porn movie written on a giant canvas. Other great winners from the past include 1998's winner Chris Ofili who's work was a
Virgin Mary made of elephant dung.
A perfect summary of the Catholic Church in my opinion!
Xenox News Art Critic
Tom Titmouse